This recipe is one, healthy; two, super easy; and three, delicious enough to serve to guests. A rare trifecta! It's awesome because you can throw in whatever veggies you have on hand. Definitely use tomatoes. The tomato juices have so much flavor when they are roasted in the oven with a little olive oil and salt. It's like a homemade chunky marinara sauce. Some other veggies that taste great in this dish are onions, zucchini, bell peppers, squash, mushrooms, carrots, eggplant, kale, spinach, . . . and the list goes on and on.
OVEN-ROASTED VEGGIES RECIPE
INGREDIENTS:
brown rice pasta
4 medium tomatoes + veggies of choice, chopped
1-2 garlic cloves, pressed
extra-virgin olive oil
salt and pepper
fresh basil, chopped (optional)
DIRECTIONS:
Cook pasta and drain. Cut up tomatoes and whatever veggies you have on hand. Place chopped veggies on baking sheet. Throw on some pressed garlic. Drizzle with olive oil. Add salt and pepper to taste. I mix it all together with my hands to keep dirty dishes to a minimum. (Or you can mix in a bowl and transfer to pan if you prefer.) Cook for 20 minutes in the oven at 425°F. Serve on a bed of pasta. Add some chopped fresh basil.
Underneath that hoard of veggies is a
silicone baking mat
I got for Christmas from my sister-in-law. It makes clean up a breeze because nothing sticks to it. I went a little overboard and used more veggies than normal for this batch (pictured above) because it was for the blog. Had to be blog worthy, ya know? I used 4 large tomatoes, 1 onion, 4 cloves of garlic, 1 zucchini, 1 banana squash, 8 oz. mushrooms, 1 orange bell pepper, and 2 leaves of kale (don't use the tough stalk in the middle). I could barely fit all the veggies on the pan! Leftovers lasted a few days, so I'm not complaining!
This post was proudly featured at: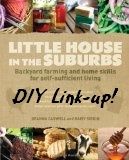 This post was shared at:
Old Fashioned Recipe Exchange
,
Domestically Divine Tuesday
,
Tip Me Tuesday
,
Tout it Tuesday
,
Jam's Corner Marvelous Mondays
,
Happy Hour Friday
,
Simple Lives Thursday
,
It's a Keeper Thursday
,
Natural Living Link-Up
,
Frugal Food Thursday
,
Healthy 2day Wednesday
,
Raising Homemakers Link-Up
,
Country Momma Cooks Saturday
,
Get Schooled Saturday
,
Strut Your Stuff Saturday
,
Simple Living Foodie Friday
,
Little House in the Suburbs
,
Foodie Friends Friday
,
Simple Steps to Healthy Living
,
Penny Pinching Party
,
Frugal Days Sustainable Ways
,
Works For Me Wednesday
,
Tiny Tip Tuesday
,
Teach Me Tuesday
,
Meatless Mondays
,
Makin' You Crave Mondays
,
Homemaker on a Dime
,
Morristribe's Homesteader Blog Carnival
,
Homestead Barn Hop
,
Monday Mania