We go through a bum-load of paper towels every day, cleaning up after our two messy little boys. I was planning on getting rid of a few of my old t-shirts that were all stretched out in the neck. Instead of throwing them away, I decided to cut them up to make reusable un-paper towels.
I made them about the same size as the select-a-size paper towels, 6x11 inches. I didn't sew the edges because the material is such that it won't unravel. Thank goodness, if sewing had been necessary I know this project would never have happened! (tip: use pinking shears to cut your fabric if the edges fray) I was able to get 6 paper towels out of each shirt so now I have 24 reusable paper towels. We'll see if that's enough to get us through at least one day! I plan on doing the same thing with our old baby receiving blankets and my husband's old t-shirts.
Last time I was at The Container Store I noticed one reusable paper towel/napkin selling for $6! Yeah, they are cute, but give me a break! Make your own for free!

Have you made your own un-paper towels? How did you make them?
This post was proudly featured at: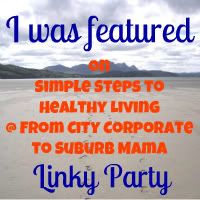 This post is linked to:
Living Green Tuesdays
,
Simply Natural Saturdays
,
Happy Hour Friday
,
Simple Steps to Healthy Living
,
Frugal Days, Sustainable Ways
,
Works For Me Wednesday
,
Healthy 2day Wednesday
,
Penny Pinching Party
,
Raising Homemakers Link-Up
,
Tiny Tip Tuesday
,
Tip Me Tuesday
,
Teach Me Tuesday
,
Anti-Procrastination Tuesday
,
Tout it Tuesday
,
Too Cute Tuesday
,
Domestically Divine Tuesday
,
Show Me What Ya Got Tuesday
,
Saturday Show & Tell
,
Link and Greet Saturday
,
Get Schooled Saturday
,
Strut Your Stuff Saturday
,
Little House in the Suburbs
,
Frugal Friday
,
Thirty Handmade Days
,
Simply Sweet Home Friday Favorites