I've been using olive oil to wash my face for the past two months. Yeah, you heard me right. I wash my face with oil. Sound like an oxymoron? Here's how it works:
like disolves like.
The clean oil dissolves the dirty oil from your face, all without stripping your skin's natural protective oils. This all natural, gentle cleansing approach is called the oil cleansing method or OCM in the blogosphere. Not only do I save money compared to my old Clinique face wash, it also doubles as my eye makeup remover. Yay for simplifying! The best part? My face has never looked and felt better.
Recommended Oils
You'll want to use a little castor oil mixed with a carrier oil. Castor oil is very cleansing. Start with one of the following ratios listed below. If your skin feels too oily, use more castor oil. If your skin feels too dry, use less castor oil. Castor oil is very drying, so don't use too much. You should be able to find these oils at your local health food store,
Amazon
, or
Mountain Rose Herbs
. It may take time to find what works for your skin. When I started OCM, I used 100% olive oil because my skin was so dry. Now that my skin has adjusted and isn't dry anymore, I use 10% castor oil, 90% jojoba oil.
Oily Skin: 30% castor oil to 70% carrier oil
Normal Skin: 20% castor oil to 80% carrier oil
Dry Skin: 10% castor oil to 90% carrier oil
Really Dry Skin: 0% castor oil to 100% carrier oil
Moisturizing Carrier Oils:
Jojoba--all skin types, especially acne-prone, oily, sensitive, and normal
Sweet Almond--all skin types, especially dry, itchy, and normal
Avocado--all skin types, especially dry, itchy, sensitive, and aging
Apricot Kernel--all skin types, especially dry, sensitive, aging, and normal
Grape Seed--all skin types, especially acne-prone and oily
Kukui Nut--all skin types, especially dry and normal
Olive--all skin types, especially dry
Oil Cleansing Steps
Rinse Face. Rinse face with water.


Massage with Oil. Lightly massage oil in a circular motion over your face for two minutes. Massaging your face can lead to firmer, more radiant skin by minimizing fine lines and wrinkles, releasing tension, and improving circulation. Just remember that when you're getting bored and wondering if the two minutes are up yet.


Remove Eye Makeup. Gently rub oil across your eye lids and eye lashes to remove eye makeup.


Steam. Soak a washcloth with hot water. Hold it over your face for 10-15 seconds.


Wipe Off. Gently wipe oil off your face and eyes with your washcloth. When I'm finished, my face feels clean and moisturized, never greasy. I'm still amazed that oil can clean my face.
(Don't forget to admire your beautiful, glowing skin in the mirror.)
Customize with Essential Oils
You can make your cleansing oil even more luxurious and customized to your individual skin type by adding essential oils. Essential oils are natural compounds extracted from parts of plants, flowers, and trees. They have been used throughout history for their medicinal and therapeutic benefits. They are extremely concentrated so you only need to add a few drops to your bottle of oil. Click here for more essential oil safety. You can find essential oils at your local health food store, Amazon, or Mountain Rose Herbs.
Mature Skin/Wrinkles: frankincense, helichrysum, geranium, lavender, myrrh, sandalwood, carrot seed
Dry Skin: rose, lavender, geranium, sandalwood, rosewood, ylang-ylang, chamomile
Oily Skin: lemon, cedarwood, cypress, juniper, lavender, lemongrass, grapefruit
Acne-Prone Skin: tea tree, lemongrass, lavender, geranium, peppermint, rosemary, sandalwood
Questions About OCM
How often do you wash your face with oil?
I do OCM most nights to wash my makeup off, but many people do it less often. I wash my face with water only when I shower in the morning. I don't use facial cleansers anymore because they strip too much of the skin's natural protective oils.
Do you need to moisturize after OCM?
My face was quite dry when I started OCM, so I had to moisturize. Over the past two months of doing OCM, my face has gotten less and less dry so I don't even need to moisturize anymore. But I do it anyway to help prevent wrinkles (it's never too early). I also use oil to moisturize, which you can read about here.
Does washing with oil make you break out?
No, I get less blemishes now then I did before OCM. Occasionally I'll get a tiny blemish when I'm lazy and don't wash my makeup off at night. Do OCM for at least three weeks to give your face adequate time to adjust. Be patient. It took some time before I figured out what oils worked for my skin and for my face to adjust to this new way of doing things.
How does OCM save you money?
Here's how much money I'm saving by switching to olive oil/castor oil. Not only do I save money, I don't have to worry about all the chemicals in commercial cleanser anymore. I also use oil as a natural make-up remover so that saves me even more money.
$3.90/oz. Clinique Foaming Cleanser ($19.50/5 oz.)
$1.68/oz. Olive Oil ($9/24 oz) & Castor Oil ($10/8 oz.)
Read More About OCM:
The Oil Cleansing Method
Nitty Gritty on the Oil Cleansing Method
Have you tried the oil cleansing method? What do you think?
This post was proudly featured at: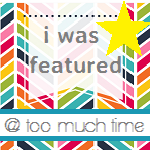 This post was shared at: Once Upon a Weekend, Thirty Handmade Days, Simply Sweet Home Friday Favorites, Happy Hour Friday, Whipperberry Friday Flair, Encourage One Another Link-Up, Simple Lives Thursday, Natural Living Link-Up, The 36th Avenue, Catch a Glimpse Thursday, Simple Steps to Healthy Living, Frugal Days Sustainable Ways, Works For Me Wednesday, Healthy 2day Wednesday, Raising Homemakers Link-Up, Tiny Tip Tuesday, Anti-Procrastination Tuesday, Living Green Tuesdays, Teach Me Tuesday, Tout it Tuesday, Too Cute Tuesday, Domestically Divine Tuesday, Show Me What Ya Got Tuesday, Marvelous Mondays, Morristribe's Homesteader Blog Carnival, Homestead Barn Hop, Monday Mania, Homemaker on a Dime, Motivate Me Monday, More the Merrier Monday, Sumo's Sweet Stuff, Alderberry Hill, Simply Natural Saturdays, Country Momma Cooks Saturday, Saturday Show & Tell, Strut Your Stuff Saturday, Get Schooled Saturday, Tatertots & Jello, Show & Tell Saturday, Say G'Day Saturday, Little House in the Suburbs, Strut Your Stuff Saturday, Get Schooled Saturday, Frugal Friday